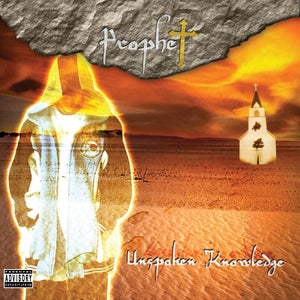 $

2.00 - On Sale
Steve "Prophet" Moutrey, a conscious rapper out of Polk County, Florida, was signed to Anti-Authority Records after being discovered by Delusional in 2004. The EP was the 2nd release in the Anti-Authority catalog after Delusional's debut album "The Platinum Punk". Prophet's story-telling lyricism and speedy delivery made "Unspoken Knowledge" (a 'good vs. evil' concept record spanning the life of a man battling demons and prevailing) a classic among fans when it hit stores in July 2005.
Delusional played a huge role in the making & marketing of the album by customizing instrumentals, co-engineering, producing alongside industry professionals Jeff McAlear & Ben Shader, and providing guest vocals.
Prophet was also one of the founding members of the Durty White Boyz, a party fused super group comprised of Anti-Authority Records then-current roster: Delusional, Durty Spott, Keno, and Prophet.
In 2006, Prophet retired from music to live a spiritual life just a week before Durty White Boyz headed to Acapulco, Mexico to perform at MTV & Maxim Magazine's Spring Break event. Stitchy C replaced Prophet for the week-long event.
In 2008 after being married and having children, Prophet changed his name to I.M.E. and currently makes Gospel music.
1. Genesis
2. Let Me Live
3. Cut-A-Buddy
4. Lifted (feat. Delusional)
5. Dear God
6. Knuckle Up (feat. Durty Spott & Delusional)
7. Get At Me (feat. Myzery)
8. Redemption
9. Revelation
Release Date: 7/5/2005